Robiq was established in 1988 and in 2017 started manufacturing a range of products for the canine and security market.
Presently we sell a range of tactical products including dog harnesses, dog leashes, dog collars and belts.
Our tactical dog harnesses are made with the dog in mind. They are comfortable, safe and designed for maximum control without using a choke chain. They are padded, lined with airtex fabric for cooling and comfort, and are made from exceptionally durable 1000D and 600D fabric and trims. Similarly the dog leashes are manufactured to the highest standards of comfort, safety and durability, and are soft on the hands of the handler.
We are a dynamic company which strives to provide excellence and service. Personal attention and individual product requirements are our trade mark. New products are regularly introduced, so keep an eye on this website!
IF YOU EXPERIENCE ANY DIFFICULTIES WITH THE WEB PAGE PLEASE CONTACT US DIRECTLY AT info@robiqtac.co.za  or call us on 082 832 1264
[button link="/contact-us" style="info"]Contact us for more info[/button]
Please use the table below to determine the size of the product you would like to order.
On the order form please give your dogs measurements so that we can confirm the correct size for you.
SIZE                               GIRTH                           NECK
SMALL                          70 – 85                        46  –  50
MEDIUM                       82  –  95                     50  –  54
LARGE                           90  –  100                   53  –  58
X  LARGE                       95  –  112                   58  –  64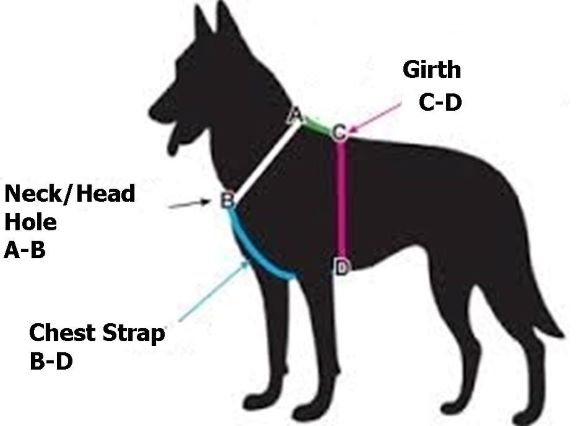 The girth is the circumference of the dog measured 3cms behind its front legs.
The neck measurement is the circumference taken where a collar normally sits.